R.I.P. Neu-Romance (2003-2006)
Neu-Romance took place every Sunday until September 3, 2006 at Kings Barcade in Raleigh, North Carolina, USA.
Update June 2007:
Neu-Romance is back! On Sunday Nights! At Tir Na Nog!
Yep, starting soon, Neu-Romance will be taking place on Sundays at Tir Na Nog, in downtown Raleigh!
The Neu-Romance vibe can also be experienced on First Fridays (the first Friday of each month) at the new Riviera Resto upstairs lounge!
R.I.P. Kings Barcade (

McDowell Street Location

) (1999-2007)
Let it all hang out one last time at Kings
I went to King's website yesterday, and I saw that Neu Romance was still listed for Sunday nights. I was meaning to contact them to tell to take it off, but I never got around to it. I'm glad didn't. I worked at Kings off and on for 7 1/2 years starting from the day they opened, and having had lots of interesting jobs I can tell you more than most how amazing it was to be a part of that place. I remember when I first started at Aries working six days a week that working at Kings on Sunday was like hanging out with friends on my day off. Neu Romance was just half of my time there, and sometimes it's hard to remember what the early days were like. There are so many people I know now that I didn't know seven years ago. Believe me when I say there has never been a place quite like it in this town. And you can thank Ben, Paul, Steve, and yourselves for that.
But I'm not here to praise Kings, I'm here to help bury it. If you haven't heard it's glorious nearly eight run has come to an end. Not by defeat, but by progress Kings (as we know it) will close it's doors for good April 7th, and the building will be demolished April 9th. Ironically, I watched the civic center caved in last year from King's doorstep (with a bloody mary in my hand none the less). I think it should be obvious the opportunity Kings afforded me over the years, and of course I'm proud and thankful for anyway that I might have contributed to it's success. Neu Romance, John Ray Fuller's Barrister's Balls, and Patty Young St. Patty's Day Ceilis will of course always be my favorites, but if you missed Maceo Parker, Black Sheep, and Walter Eagan (and you did) I have pity for you. I missed the first Blowfly, and I still kick myself for that one. And I won't even start with that first Sharon Jones show because then you'll just get mad! Seven and a half years of great shows - actually it's probably about three years of great shows added up, and another three or so of crap - and enough incredible memories to last a lifetime. I saw the sun come up more times at Kings than at my last three apartments combined.
And that brings me to March 10th. Alex Cox talked me into doing one last show at Kings featuring Brite Boy, Apollo Heights, and the Neu Romance crew. That was before I heard the place was being demolished. Alex and Melissa White cooked up this crazy idea to bring the Chimps back (that's Danny and Daniel for the unlearned), added Mikey Ross and crew (and Brandy's voice is as beautiful as the rest of her), and then had the nerve to incorporate a soul food potluck into the mix. And you know outside of a black family reunion or funeral nobody does a soul food potluck like we do at Kings. Can I get a witness? So that's what I'm gettin' at - March 10th we will be celebrating the life and times of a Raleigh institution, and will be saying farewell to one of the best chapters of our lives.
But wait! There's more. As of this writing Alex and Melissa do not know that I ran into Big Jim tonight at Riviera. Now the more seasoned of you probably know where I'm going next. Big Jim's warehouse is being demolished as well, and Jim (who drove a Mercedes into the desert of Burning Man - that he bought along the way) always has a flare for the dramatic. So now what was a Neu Romance farewell to Kings is also a Barrister's Ball farewell too. No costumes required of course, but the style and substance will be there for sure. 5000 square feet of space will be available for you to do within it what you please (no explosives please - if you need to blow up something just talk to Jim).
So let's recap: Kings is being torn down; we are having one last party featuring local soul rockers Brite Boy and Raleigh black militant legends Apollo Heights/ formally known as The Veldt (that's right, bitches!); DJ services and cosmo vibe provided by Neu Romance (North America); soul food provided by YOU (and Churches Chicken); crazy space and forklift courtesy of Big Jim and crew; memories generously bestowed to us by Ben, Paul and Steve.
By the way, the doors at Kings will be locked at 2:30 so you will need to walk around back for entry. We will not provide kegs for this one so prepare yourself accordingly. Admission is $5 before 2am (chimps gotta eat), and the DJ's for the after-party will be DJ Reed (Charles Felmy) and DJ Kiko (Keith Ward). Full nudity is permitted. Cheers!
-Chico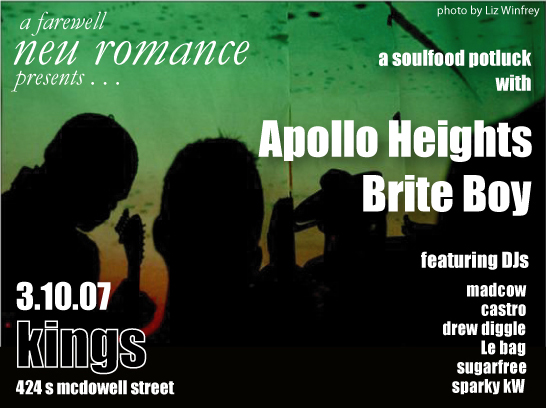 R.I.P. Neu-Romance (2003-2006)
If you haven't heard already let me make it official: Sunday, September 3rd, 2006 was the last Neu Romance. I've been putting off writing this e-mail for weeks because I didn't know what to say, and I just couldn't bring myself to say it. It is not possible to thank all the people who helped make this show what it became. That last sentence seems a little grammatically odd to me, but I can't figure out any other way to say it. What this show started as - me bringing my gear down to Kings to play some music that I honestly thought only myself, Alex Cox, Castro, Drew and Krazerock were interested in hearing - morphed into this crazy fabric of relationships, music, food, dancing, rollergirls, hustlers, strangers, politics, and various assorted electronic devices. I just wanted to play my jams in public, y'all. I had NO idea it would last this long.
At first I wanted to spin just the chill, down-tempo sexy stuff that Le Bag (Nik) plays. But Drew was there (on the first night), and I remember him saying, "Hey, Man, this stuff is great, I love it, but you don't want to put these folks to sleep." And that's where the house, and breaks, and d&b, and hip-hop, and funk and soul came from. I remember Todd Mormon saying, "We should serve food, brie and fruit, and stuff like that." I was like, "Whatever, as long as I don't have to go get it." So that's where the food came from. The night got so consistently busy that I needed another bartender so I could spin (the first night the decks were facing the bar), and that's where Brad "Breezy" Bryant came from. Every part of Neu Romance has a story - Simon off the train from the U.K., Wax Master Tory, E-Man and Uncle Mel, White Boy Night (the only event officially endorsed by Kings), DJ Rasoul, Brad kicking the guy in the butt on the way out the door, Tony, Diamond, Frankie C talking me into going to New York, Vern's guacamole, Busty and Annie baking us a cake in the shape of turn-tables, Yo's Jams, Corey Parker showing up at the back door ready to play without us ever having met or talked at all...there are as many stories as there are people to thank.
I think it's important to note that from the beginning DJ's that had weekly shows in the Triangle were very supportive, especially Matt Routh, Keith Ward, and Daniel Moore. It's also important to note that ALL the DJ's played for free, even Rasoul who we flew in from Baltimore - TWICE! The best DJ's in this area have played at this show at one point or another, and that's something I'm very proud of.
Neu Romance gets its name from a book by William Gibson called, Neuromancer. The Matrix movies are loosely based on this book, but that has nothing to do with my show, except maybe the part where Morpheus tells Neo that he knows Neo feels in his heart that there's more to the world than what he sees. I felt like there was more to the Raleigh scene than just top 40, indie rock, hip-hop, and alt-country. So I started a show about music, mostly because I wanted to, and I figured that it would be an alternative to what Raleigh folks were used. I called it Neu Romance because that best describes the music I was into at the time, and the music I wanted to play. How would you describe Estero, Kruder & Dorfmeister, MJ Cole, Mr. Scruff, DJ Cam, Thievery Corporation, Pepe Deluxe, Amon Tobin, Aphex Twin, Foreign Exchange, Lemon Jelly, Skylab, Paul Weller, Saint Etienne, St. Germain, Tortured Soul, Radical Nine, Tranquility Bass, Kings of Convenience, Gilles Peterson, Lisa Shaw, Nikki Costa, and Nightmares on Wax??? The national media is sworn enemies of these artists and this music. They are the Matrix and we are the rebels. That's why this show is on Sunday night - the garbage night that nobody wanted (and still don't). We made lemonade, and called it Neu Romance.
Labor Day Eve was that last Neu Romance at Kings. The show may reincarnate itself somewhere else at another time in another universe or something, but it's over as we know it. A few people know my feelings on all of this - why it's ending, why we're leaving Kings, e.t.c - and none of that is worth mentioning in public. Call me dramatic, but we're still the rebels, and there's still a cultural war going on (I said this for years!), and I am not giving up the fight. By the way, I'm burning copies of Foreign Exchange's Connected to give to whomever wants it. It's my act of civil disobedience, and also I hear the record is out of print and not for sale anymore. Everyone should have a copy - it's the best album you've never heard of.
I gotta go. Thank you everyone who helped, near and far. I remember everyone and everything. And if I haven't thanked you already I apologize. Long live the music!
-Chico (a.k.a. DJ Madcow)
When:
every Sunday until September 3, 2006.
Where:
Kings Barcade, 424 South McDowell Street, Raleigh, NC, USA, (919) 831-1005
[MapQuest map]
(Kings is right next door to Poole's Diner.)
What:
Neu-Romance featured a different lineup of resident and guest DJs every week. You used to be able to enjoy the free pool, chill vibes, free light eats at the bar, drink specials. Music ranged from house to drum & bass, rare groove, ambient dub, Ibiza chill, trip hop, funk, and the newest tracks from the underground. B-Boys and B-Girls were welcomed.
Cost: FREE
for members of Kings, $1 for guests, except for special shows noted below
ALL AGES
(21+ to drink)
Past Neu-Romance Events
You missed these events. Sorry about that!
Sunday, Labor Day Eve, 2003 - Labor Day Eve 2003 spectacular
Sunday, January 11, 2004 - DJ Allimax's farewell show!
Sunday, January 18, 2004 - MLK holiday night with The Corey Parker Band
Sunday, February 15, 2004 - The return of Frankie C from New York!
Sunday, April 4, 2004 - Drew's special birthday celebration!
Sunday, April 11, 2004 - Farewell party for Alex Cox, featuring the sounds of DJ Mimi of HouseWarming
Sunday, May 9, 2004 - The incredible Sharon Jones & The Dap Kings show replaced the regular Neu-Romance
Sunday, May 23, 2004 - The return of DJ Allimax
Sunday, May 16, 2004 - KENBROPHONICS
Sunday, June 13, 2004 - PINK BEATS II: Ladies on the Decks with DJ MiMi (HouseWarming), Della Baines (Neu Romance), DJ Allimax (reprazentin' the Vinyard), DJ Que Sara Sara (WKNC), and Stef Maus (Jazz Anew)
Wednesday, June 23, 2004 - Special Birthday Celebration
Sunday, June 27, 2004 - Instead of the regular Neu-Romance, Shadow of a Great Name and Frequency performed
Sunday, August 8, 2004 - DJ RaSoul - San Francisco house music legend - View Pix - DJ RaSoul's Bio, plus LeMoore of Glamoore Productions
Saturday, August 14, 2004 - DO YOU KNOW HOUSE? featuring: 00Dan, Brian Zanone, and Frankie C
Sunday, September 5, 2004 - Labor Day Eve 2004 - Corey Parker Band, and the return of DJ RaSoul
Sunday, October 17, 2004 - Noche Latina
Saturday, October 23, 2004 - Barrister's Ball 2004! (View flyer)
Friday, November 12, 2004 - Sharon Jones and The Dap Kings return!
Sunday, November 14, 2004 - Soul Food Pot Luck!
Friday, January 7, 2005 - Mecca: A Celebration of Downtown Music and Culture with Odd International, DJ Madcow, DJ Castro, Drew
Sunday, January 9, 2005 - Yo's Jams Featuring DJ Keith, DJ Castro, DJ Krazerock and DJ Madcow, musical direction by Yolanda
Friday, February 4, 2005 - Warmth for Wake Benefit! Mecca: A Celebration of Downtown Music and Culture with Odd International, DJ Reed, DJ Madcow, DJ Embrace, visuals by Esotic, artwork by Kenbro Braak, and original culinary creations by Steph (the Chef) Hensley.
Friday, December 24, 2004 - Xmas eve Dj Madcow and the Wheels of Mad Steel
Sunday, December 26, 2004 - PINK BEATS III - All-girl DJ's!
Sunday, January 16, 2005 - Special Guest DJ Steven Feinberg
Sunday, January 30, 2005 - Special Conservation Gathering
Sunday, February 13, 2005 - OKTBRWRLD
Sunday, April 24, 2005 - Neu-Romance Dub Night with Ponytail Mike, DJ LeBag, Cutlass, Kenbro, and DJ Madcow
Sunday, May 8, 2005 - White Boy Night! with Dave Mueller (Strange, Birds of Avalon), Craig "da rockstar" Tilley (Birds of Avalon, The Cherry Valence), Brad "Breezy" Bryant (Neu Romance), and DJ's Castro and Madcow
Sunday, May 29, 2005 - MEMORIAL DAY SPECTACULAR with Donovan (Carless) and The Posse
Sunday, May 22, 2005 - Carolina Roller Girls Bout 2 Afterparty
Sunday, June 5, 2005 - Neu-Romance Dub Night — The Sequel!
Sunday, July 3, 2005 - YO'S JAMS II - AN ALL NIGHT THANG
Sunday, September 11, 2005 - Melvin Sparks, known for his work with jazz pioneers Lou Donaldson, Grant Green, and David "Fathead" Newman. More info on Melvin Sparks
Sunday, September 18, 2005 - NEU-ROMANCE @ THE BERKELEY! Special Katrina Benefit Show!
Sunday, January 15, 2006 - Funk and Soul Review
Thursday, February 2, 2006 - Sharon Jones & the Dap Kings return to Neu-Romance!
Sunday, February 19, 2006 - The Rafiq Bhatia Trio
Sunday, March 12, 2006 - Neu Romance 3rd Anniversary / Yo's Jam III "Living La Bon Bon Vie"
Sunday, April 9, 2006 - Official Carolina Rollergirls Season Opener After-Party! Neu-Romance @ the Berkeley Cafe!
Sunday, April 16, 2006 - Neu Romance Easter
Sunday, May 7, 2006 - DJ Pangean (James Leake) and Snakeyes, a.k.a Theo the Funky Frenchman
Sunday, May 14, 2006 - Official Carolina Rollergirls Bout After-Party!
Sunday, May 28, 2006 - Memorial Day Special! Rafiq Bhatia Trio and The Remix Project benefit for the Triangle Urban League, part of the National Urban League, a non-profit that seeks to close the gap for African-Americans in education, economic empowerment, health, quality of life, civic engagement, civil rights and racial justice.
Sunday, June 11, 2006 - Rafiq Bhatia Trio and Maestro Documentary
Sunday, June 25, 2006 - Carolina Roller Girl Bout Afterparty! following the final summer performance of Rafiq Bhatia Trio @ 8pm.
Sunday, July 2, 2006 - The Rafiq Bhatia Trio CD Release Party
Sunday, July 23, 2006 - Carolina Roller Girl Bout Afterparty!
Sunday, August 20, 2006 - Carolina Roller Girl Bout Afterparty! It's the 2006 Season Championship!
Sunday, August 27, 2006 - PINK BEATS at the Penultimate Neu-Romance! ALL-GIRL DJs Della Baines, Nicci O'Brian, April Stroth and Ashlea Green, as well as special ALL-GIRL BAR STAFF Nicole, Billie, Heather, and Mindy from the N.C. Conservation Network! Benefit for Raleigh Vagina Monologues
Sunday, September 3, 2006 - THE LAST NEU-ROMANCE. Featuring DJ's Soundmachine, Merlin, Mooney, Proto-J, Castro, Madcow, Mark T., and Drew Diggle on the wheels. Live music from Rhythm Child featuring Everett James.
NeuRomance Links
About Kings Barcade
Kings is a membership club. Please see the
Kings website
for information on becoming a member.
Neu-Romance is free for members of Kings, $1 for guests. Kings is in downtown Raleigh, on McDowell Street a couple of blocks north of Western Boulevard, right next door to Poole's Diner (formerly the Vertigo Diner). Kings serves a variety of beers and liquor drinks. There are two pool tables and pool is free during Neu-Romance. There is plenty of room to dance, hula-hoop, and/or do cartwheels if that's your thing. Or, there are plenty of seats as well if sitting is more your bag.
About Neu-Romance DJs - Contact Info and Bios
Many different DJs have performed at Neu-Romance. The following DJs have performed at Neu-Romance at least once. Email Neu-Romance Webmaster if you want your bio/email/link put here.
DJ Madcow (Chico) - djmadcow/at\yahoo/dot\com - Read Chico's Bio
Drew - drew/at\drewdavidson/dot\com
DJ Castro (Shaun) - djcastro72/at\hotmail/dot\com
Nick - nick/at\radical9/dot\com - Radical9.com
Frankie C - Read Frankie C's Bio
DJ RaSoul - DJ RaSoul's Bio
DJ Cutlass (Vern) - Read DJ Cutlass's Bio
DJ Allimax - ajm6/at\lehigh/dot\edu
DJ Krazerock
DJ Mike Williams
DJ Pangean (James) - djpangean/at\hotmail/dot\com
DJ Snakeyes, a.k.a Theo the Funky Frenchman
DJ MiMi (HouseWarming)
Della Baines
DJ Que Sara Sara (WKNC)
Stef Maus (Jazz Anew)
DJ Short Attention Span
LeMoore of Glamoore Productions
00Dan
Brian Zanone- brian/at\audioartpros/dot\com - audioartpros.com
DJ Kiko - Keith Ward
DJ.EXE - Matt Routh
DJ Steven Feinberg
DJ Reed
DJ Embrace
DJ Rune - Eric Deitsch
J-Smooth (from Philly)
DJ Midnight Cowbwoy - Brian Harris
DJ Mark T.
DJ Marco
Miss Shingaling (Subway Soul Club - NY)
Dante Carfagna (Memphix Records - Chicago)
Brent Goodsell (Neapolitan Records - Milwaukee)
Dave Monroe (The Soul Hole - Milwaukee)
Jason Perlmutter (CarolinaSoul.Org - NC)
Ben "L&B" Pirani (Rare Soul Millionaires - Chicago)
SOLID! - solidsoundsystem.com
DJ Merlin
Kool Sheed
Proto-J
Nicci O'Brian
Ashlea Green
April Stroth
April Dawn
Shannon Gray
Michelle Lanteri
DJ Soundmachine
DJ Mooney
Yolanda "Yo Yo" McGill
DJ Romaric
About Neu-Romance Bands - Contact Info and Bios
Sometimes we have special guest bands in lieu of or in addition to DJs. The following musical artists have performed at Neu-Romance at least once.
Donovan (Carless) and The Posse
Rhythm Child featuring Everett James
Webmaster
Webmaster: Drew - drew/at\drewdavidson/dot\com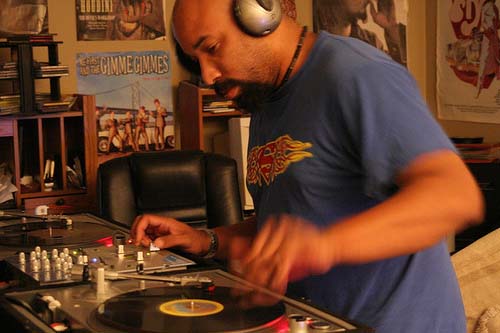 Sean Johnson, DJ Oldskool
We will all miss you.